Two faculty members named to endowed professorships
Kyunghwa Lee and Julianne Schmidt, two faculty members in the Mary Frances Early College of Education, were recently named to endowed professorships.
Kyunghwa Lee, a professor in the Department of Educational Theory and Practice, was named the Omer Clyde and Elizabeth Pharr Aderhold Professor in Education by the Board of Regents.
With funding through a gift from the family of the late O.C. Aderhold, former president of the University of Georgia and dean of the College of Education, the professorship will provide Lee with the resources to expand work in teaching and learning in early childhood settings with a specific focus on children with attention deficit/hyperactivity disorder (ADHD).
"I accept this honor with a strong sense of responsibility, seeing it as both a privilege and an impetus to further extend and expand my teaching, research, and service, particularly for children and educators from marginalized communities, Lee said. "I am grateful for the support and guidance of my mentors, colleagues, and students in both Korea and the United States, who have played a pivotal role in my growth as a scholar and a teacher educator and my tenure at UGA."
Lee joined the College in 2002 as an assistant professor in the Department of Elementary Education, now called the Department of Educational Theory and Practice. Her work has been published in numerous journals such as "British Journal of Educational Technology," "Early Childhood Education Journal," "European Early Childhood Education Research Journal," and "Teachers College Record." Her research interests include:
Teaching and learning in cultural-historical and sociopolitical contexts
Teachers' perspectives on young children with ADHD and the intersections of race, class, and disability
Robotics and embodied learning in public schools serving children from diverse backgrounds
Julianne Schmidt, an associate professor in the Department of Kinesiology, was named the Georgia Athletic Association Professor in Education.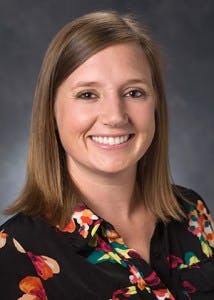 The professorship, funded by a gift from the University of Georgia Athletic Association, will provide Schmidt with the resources to expand her work in concussion.
Schmidt joined the College in 2013 and serves as co-director of the Biomechanics Laboratory and the UGA Concussion Research Laboratory. Her work in driving post-concussion is the first to demonstrate post-concussion impairments in simulated driving performance, and her research encompasses concussion education, evaluation, and management.
"I am truly honored to be named the Georgia Athletic Association Professor in Education," Schmidt said. "Our research team has partnered with the Athletic Association and the University Health Center over the past 10 years to support their concussion education, evaluation, and management services for athletes and all UGA students. The endowed professorship will open doors for our team to expand the impact of our research, create a broader community impact, and provide learning opportunities for students interested in concussion care."